By Bog Iger (2019)
Pages: 272, Final verdict: Great-read
Bob Iger had a remarkable run as the CEO of Disney. From 2005 to 2020 Disney stock rose more than 400%, it released dozens of box-office hits, and he transformed the media landscape with the acquisitions of Pixar, Marvel, Lucasfilm and 21st Century Fox.
Iger stepped down as CEO in February of 2020. The Ride of a Lifetime, released 6 months before his resignation, takes us through the biggest moments of his career as the CEO of Disney and the most important lessons he felt were worth sharing.
Behind the curtain of "The Happiest Place On Earth"
September 30th of 2005 was an important day for Bob Iger. After an unanimous vote by the board in March the former COO of the Walt Disney Company was taking the reins of one of the most iconic companies in the world.
His predecessor, Michael Eisner, who had taken over as CEO in 1984, had placed the then struggling media company back to the hearts and minds of Americans everywhere while deepening his investors' pockets in the meantime (the stock rose 1,716.8% under Eisner). But in 2005, the Disney outlook looked again grim. The animation studio was struggling, after what Iger calls several "expensive failures"( Lilo and Stich, Tarzan, Mulan and other). The relationship with Steve Jobs' Pixar - by then the leading animation studio in the world - looked beyond repair. And Wall Street was not very hopeful  that Iger, who had been the COO of Disney for 5 previous years, could turn the company around.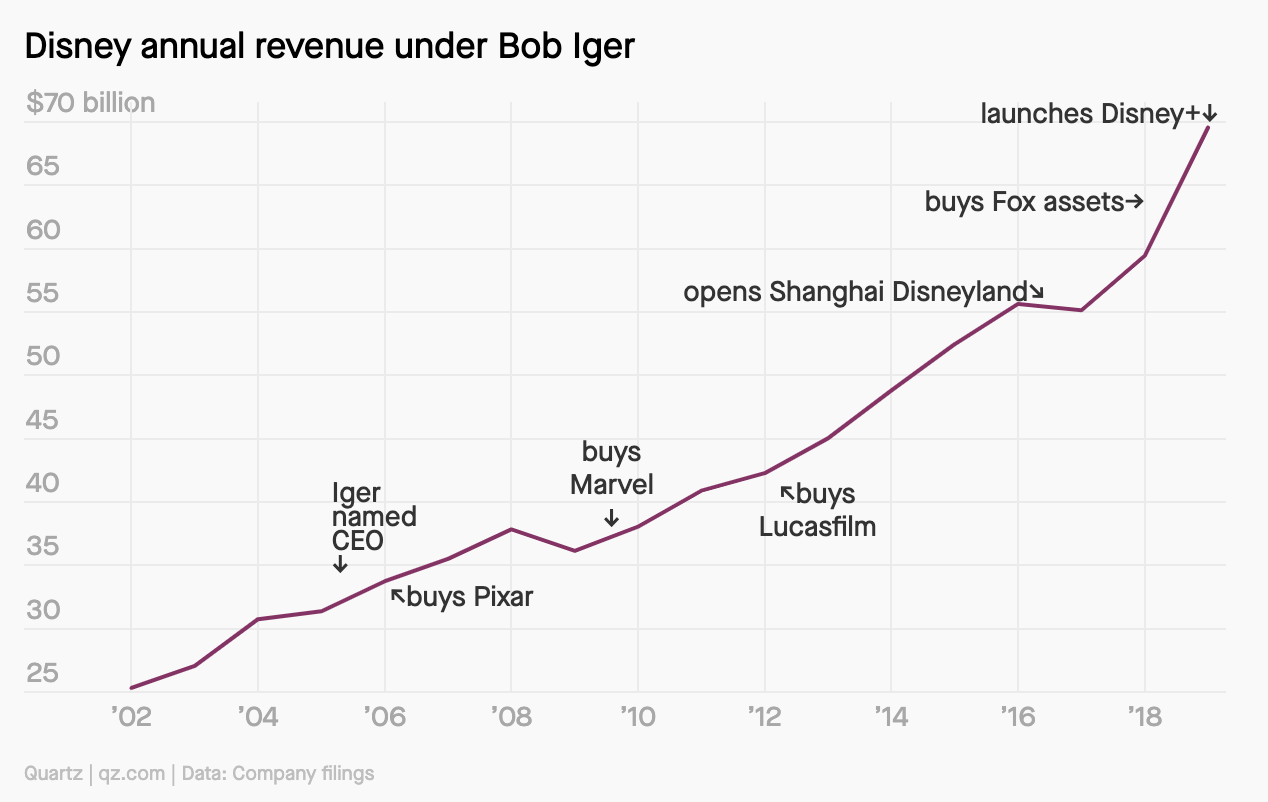 Iger divides The Ride of a Lifetime the same way an outsider would look at his career: before being the Disney CEO - in a part he named "Learning"- and as the Disney CEO, called "Leading". The 14 chapters tell the stories of important moments in Iger's career from Disney's acquisition of Pixar to the Me Too movement that took the media industry by storm. They serve both as entertaining anecdotes of the stories that shaped Iger's career and as examples of his "ten leadership principles": Optimism, Courage, Focus, Decisiveness, Curiosity, Fairness, Thoughtfulness, Authenticity, Integrity and my favorite, The Relentless Pursuit of Perfection.
In a chapter called "If you don't innovate, you die" Iger recounts the difficulties and courage needed to disrupt the company from within and of having the "stomach to cannibalise current profitable businesses in order to build a new model". He shared how Disney assessed that people were starting to consume media differently, the understanding that they needed to have a foot in the game - which led to Disney almost buying Twitter in 2016 - and the decision to venture into the streaming business and build Disney+.
"Long shots aren't usually as long as they seem. With enough thoughtfulness and commitment, the boldest ideas can be executed." - Bob Iger
Iger does a great job meshing the inner workings of running a giant media company with entertaining the reader as he navigates his 45 year career. I, for one, felt a prolonged sense of nostalgia reading many of the stories of Iger's time at Disney. Like most of us, I grew up fascinated by Disney, its characters and stories and reading the many references of the movies and the adventures going on behind the scenes was a great attention grabber for me.
Those stories also show a more personal side of Iger. Some personify his insane work ethic and discipline, like when he mentions taking his "first-ever took week vacation" in 1999 or waking up everyday at 4.30 AM for his daily workout. Others show a more human side of being the CEO of Disney: his hot and cold relationship with his predecessor in Eisner, his personal relationship with Steve Jobs, or the how instinct played a big role in his last minute decision to pull out of the Twitter acquisition.
The book ends with an appendix I would not skip. A list of short leadership lessons that work as a summary to the key thoughts and mantras that Iger repeats throughout the book.
Bottom line
I did not know much about Disney's history before picking up the book. Sure, Disney has captured my imagination from a young age, but I was unaware of much of its recent history and of Bob Iger.
The Ride of a Lifetime turned out to be a great surprise, and one of the best business books I've read in a long time. With under 300 pages, Iger tells a great story of his career and the transformation of Disney. And he does it in a casual, approachable and captivating style.
A career of 45 years and a tenure as CEO of 15 are not without its failures. And even though there are plenty of mentions of hardship and difficult moments at Disney, one gets the feeling that is a lot that was left unsaid.
Regardless, The Ride of a Lifetime is definitely on my recommendation list. How could it not be? It combines a legendary business transformation, a charismatic CEO, and the magic to take you back to your childhood for a few hours. Not a bad recipe.
Further learning
Happy reading.